Location
Cheese & Grain
Justice Lane
Frome
BA11 1BE
United Kingdom
Refund policy
Refunds up to 7 days before event
Eventbrite's fee is nonrefundable.
Health and climate change - how are they connected? Does taking action to improve one, create opportunities to improve the other?
About this event
A unique partnership - Edventure Frome, Frome Medical Practice and Frome Town Council - is working together to achieve health and climate win-wins in our town. Join us on the 15th of July to learn about our impact, ways to get involved and models for making change in your own community.
This interactive one-day event in Frome, Somerset will:
Show how our own health and the planet's health are firmly linked
Involve all participants in considering the ways our communities can achieve health and climate change win-wins
Share practical ideas and plans for widespread community action and health service innovation
This conference is aimed at anyone who wants to create change in their own communities, and those from health, local government and third sector organisations. It's also for the people of Frome and surrounding areas who want to connect with others across the region and the UK, and get more involved in the Green & Healthy Future project - see our detailed timetable.
We care about having real exchanges, making the best use of every moment we have together, inviting feedback on the ideas you hear and equipping everyone for a greener, healthier future.
Sharing their insights, our guest speakers will include:
You will also hear directly from members of the Green & Healthy Futures team :
Dr Helen Kingston - Senior GP Partner, Frome Medical Practice
Jenny Hartnoll - Health Connections Mendip Lead, Frome Medical Practice
Charlotte Carson - Green Health Connector, Frome Medical Practice
Johannes Moeller - Managing Director, Edventure:Frome
Sue Palmer - Future Shed Lead, Edventure: Frome
Nikki Brain - Resilience Manager, Frome Town Council
Jo Morris - Resilience Officer, Frome Town Council
Emma Parker - Cycle Together Lead, Frome Town Council
At this event, participation is key. Everyone will be immersed in real examples of change, with time to talk, think and listen. Our event will inspire you to make change in your community or neighbourhood.
You will:
Hear about the successes and lessons learned from a live climate action programme where one innovative community's GPs, local council and a social enterprise came together to tackle climate change and health challenge
Forge important new connections
Share your own experiences of overcoming obstacles to make effective actions to improve climate change and health outcomes
Problem-solve the challenges to replicating this in your own town - this will be especially effective if you come as a group with your opposite number in the health service, local government and/or community organisation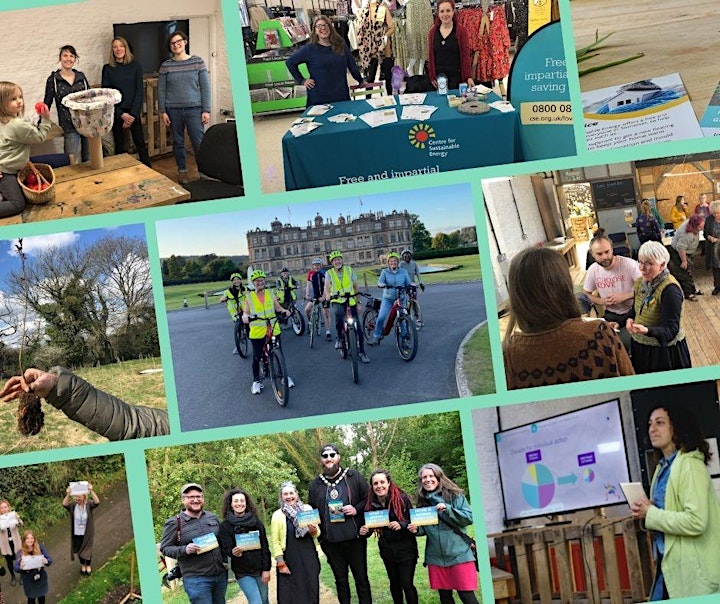 As part of the day, we have additional activities:
The launch of the Frome Seed Library in the Town Library – you can donate your spare seeds (no F1 varieties please and they must be in date)
'Everyone Needs Pockets' – a display of repaired and repurposed clothing by members of the Future Shed Clothing & Textiles Reuse Network in Frome Town Library
Young people's climate debate workshop with Science Boost facilitator Katie Marshall, for 13-18 year olds – pre-booking is essential.
You will take away:
The story of our project and, if you live in Frome or its surrounds, information about how you can get involved going forward
Ideas for how you can build a green and healthy town or city
A recipe for creating productive cross-sector projects
Toolkits of Frome's prototypes to tailor and scale in your community/town
New contacts and connections to a network of community-focused climate activists
Collective insights on making climate action stick
Agenda - see our detailed timetable
9:30am – Arrivals and registration, displays and activities
10:30am – Introduction and stories from Green & Healthy Future team
11:30am – Guest speakers
12:10pm – Lunch and networking
1:15pm – Guest speaker
1:30pm – Breakout sessions and discussions under five different themes that relate to our programme
2:40pm – Vision for communities
3pm – 'Out and about' in Frome with Green & Healthy Future team
4pm – Teen science debate workshop (for 13-18 year olds, book separately)
4pm – Drinks & snacks at Frome Town Hall
Ticket Tiers (including all refreshments and processing fees):
Tier 1 - £12.50 - I am part of a community organisation or group / I am an individual on a lower income / I am in receipt of benefits / I am a student, and this tier enables me to attend
Tier 2 - £22.50 - I work for an organisation with a limited training budget or no organisation at all and rarely can attend learning, networking or conference activities such as this
Tier 3 - £45 - I work for an organisation with a medium training budget which can usually cover attendance at one or two development opportunities a year
Tier 4 - £70 - I work for an organisation with sufficient training budget for me to attend development opportunities with ease
We have a limited number of free bursary tickets available to anyone from a community group or from Frome who would not otherwise be able to attend. We do not want the ticket price to be prohibitive. Please contact greenhealth@edventurefrome.org with Bursary Ticket in the email subject, as soon as possible.
Covid guidance
We will issue Covid safety guidance nearer the time of the event and plan for the event to keep all attendees as safe as possible.
About the hosts
This event is hosted by the Green & Healthy Future for Frome programme.
A Green & Healthy Future for Frome wants to achieve a health and climate win-win. How? By exploring how we can help local people to live in ways which are good for their health and the planet. This community-led initiative is based on the fact that these issues are firmly linked – if we improve one, we'll also improve the other, enabling everyone to share in a better future.
The programme is a partnership between Edventure: Frome, Frome Medical Practice, Frome Town Council and our local community. Our programme is made possible by the Climate Action Fund through The National Lottery Community Fund.
This event is funded through The National Lottery's Climate Action Fund. Thanks to additional sponsorship from Cheese & Grain.